Yesterday I mentioned that I haven't always loved the month of November. Now I adore it, mostly due to this fella: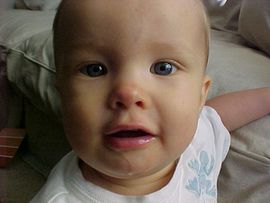 Little Man and his November birthday made me really come around about the eleventh month of the year. (PS His eyes are even more blue now, but he doesn't drool. Except when he's sleeping sometimes.) He was quite a cutie, no? He still is. See evidence below.

I also haven't always LOVED Thanksgiving. We celebrate Thanksgiving with dear, dear friends. In fact, one of my best friend's and her family. We kind of adopted each other when we were celebrating away from families over 10 years ago. Now, we're all grown up and having our own kiddos, but we still celebrate together, alternating locations every year.

Our Thanksgiving meal has gone to very traditional---plain (and maybe dry!) turkey, simple sides, and pumpkin pie. Over the last several years, though, we've gone foodie! And I LOVE it.

This is the turkey we have made when my mom has hosted for the past 2 times:

image courtesy of martha stewart.com

It is a Cranberry Glazed Turkey with Cranberry Cornbread Stuffing. It is to.die.for. SOOOO very, very delicious.

So, since Little Man came around, I've been a huge November fan. And since I discovered this turkey, I may just be November's biggest fan. Think about adding
this
beauty to your Thanksgiving menu. You won't regret it!